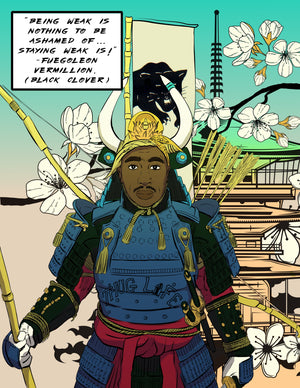 PacSuke
Introducing Pacsuke canvas - the ultimate canvas for the modern-day warrior. This innovative combination of 2pac Shakur and the Black Samurai Yasuke is a re-imagining of two great warrior spirits in history. Inspired by the Legendary story of the original Afro-Samurai Yasuke. Yasuke (弥助) was a man of African origin who served as a retainer and weapon-bearer to the Japanese daimyo Oda Nobunaga. With its coolness, flyness, and unapologetic attitude, Pacsuke embodies everything you need to take on the world. So whether you're into thug life, looking to rep your favorite rapper, or pay homage to a legendary samurai, Pacsuke has you covered.
 Key Highlights
 The print is high-quality and comes ready to hang on your wall.
A unique and powerful artwork that will add a touch of strength and power to your home or office.
A one-of-a-kind artwork that is sure to impress everyone who sees it.
24x36 in or 16x20 stretched canvas.